Breaking Ad
Jump to navigation
Jump to search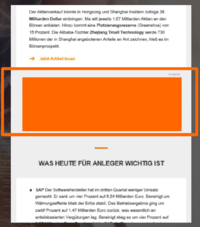 Delivery
Wherever possible, please send the ads in ZIP file format via downloadlink to:
banner@iqdigital.de
Special:
5 working days before the insertion date
Description
Powerful branding display ad for all newsletters

Technical data
Formats of delivery:
as physical file
Delivery is only possible as JPG, PNG
Click-Tracking (as URL)
External Click Tracking (ClickCommand) can be built in
Please always note the following:
Conditions
iq digital reserves the right to approve each ad motif on the basis of a case-by-case decision. Ads that do not comply with the specifications, result in excessive reactance (CPU load of average user devices) or impair use and general performance of the pages must be corrected by the agency delivering the ad or can be rejected. The technical specifications of iq digital are subject to change. For this reason, technical specifications apply to the respective advertising order in the version valid at the time the advertising order is concluded.